Meeting rooms for business meetings, training courses, conventions or simply business breakfasts, structured to cover the most demanding needs and ready to become a multifunctional meeting center.
The sober and elegant spaces, equipped with the best technological support and with a fully-qualified staff guarantee their adaptability to the different demands of the three meeting rooms, of which two can be modulated, make it possible to meet with the contemporary presence of up to 100 people.
The technology plant, supported by highly qualified staff, is ready to cater to the full demands of the event with a full service break, thanks to a coffee break service, buffets and work dinners. On request, rental of other equipment is possible.
Reception Group
Welcome your guests when they arrive
Presentation tools
Flip chart, magnetic board, markers and projector on request
Administration services
Access to media for printing and copying documents
Bar service
If requested the possibility to have a the, cage and catering service
MYLAE
BOTERO
CARAVAGGIO
TEATRO TRIFILETTI
CASTELLO DI MILAZZO
Horseshoe arrangement

25 PAX

50 PAX

100 PAX

-

-
Imperial arrangement

25 PAX

50 PAX

100 PAX

-

-
Table seating arrangement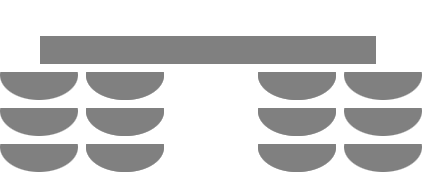 35 PAX

80 PAX

150 PAX

200 PAX

400 PAX
Our Staff will personalize and define your services.